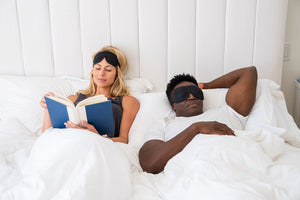 Frequently asked questions about Nidra sleep masks.
Is my mask machine washable and dryer-safe?
No, our masks are not meant to withstand machine washing and will likely break if machine washed or if put in a dryer. Please only hand wash them and hang dry. See next question for detailed instructions on washing.
How do I care for my sleep mask?
Please note that we discourage using alcohol-based creams and lotions to your face and head near the time of sleep mask use. This is because alcohol-based creams and lotions may cause the mask to fall apart. In addition, wash your masks with lukewarm water only and hang dry. If you would prefer to use soap to wash the mask, please use non-chemical gentle soaps like Dr.Bronner'sSoap or any natural soap that has no chemicals. Soaps that have alcohol-based ingredients and other chemicals may cause the bonding agent in the mask to come apart.
I do not like my mask. Can I return it?
Yes, Nidra has a 30 day money back guarantee refund policy.
What is the sleep mask made of?
The fabric is made of 100% polyester interlock fabric with a thin foam insert. 
What makes Nidra sleep masks different than the rest?
We believe Nidra makes the the best sleep masks on the market, and if you don't agree, we are happy to refund you at any time! Both of our mask models have a best-selling patented design. The comfort is provided by the specially contoured eye cups in the mask that allow your eyes to be compression-free. Most sleep masks press against your eyelids while you sleep. This mask allows space for your eyelids to 'breathe.' We have tested the mask on side, back, and stomach sleepers and have +95% satisfaction rate. 
Which Nidra mask is best for me?
The Deep Rest Mask fits larger faces and heads, and does not have as much coverage over the nose bridge (the space on your nose between your two eyelids). The Dreams Mask fits smaller faces and heads and has more coverage over the nose bridge. Both masks have a new type of Velcro that does NOT stick to pillowcases or hair!
Does your product contain latex?
No, our products contain no latex at all
Are your products scented?
No, our products are not scented.
Does the mask press on your eyes?
The Nidra Deep Rest mask is specially designed with deeply molded cups that curve away from eyes and eyelashes for rub-free comfort. Our mask will keep your eyes shielded from light without smudging eye make-up or compressing your face, eyelids, and eyelashes while you sleep.
Does the material on this mask bleed off onto the pillowcase.
The mask fabric will not bleed. We have extensively tested our products (in our own beds) for 7 months to make sure there was no bleeding.
Is there any difference between the black and purple colors in regard to light blocking ability?
The Nidra® Deep Rest Mask in black and purple does not have any difference in regards to light blocking. The only difference they have is the color on the outside of the mask. The Purple Deep Rest Mask is also black inside, so it provides complete darkness even if you open your eyes while wearing the mask.
Does the mask have any metal or plastic in it, perhaps by the nose?
No, there is no plastic or metal on any part of the mask. Our sleep mask is made of light-weight materials and the adjustable straps are adjusted and secured using Velcro.